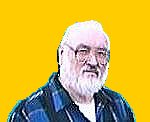 Professor William H. McCumber, Jr., is a systems engineer and educator. He is President of EagleRidge Technologies, Inc., a software and systems consulting firm. He is also professor at the University of Maryland (University College), where he teaches graduate courses in systems engineering.
Until February, 1999, he served as Senior Systems Engineer at Lockheed Martin Software and Systems Resource Center, Gaithersburg, Maryland. He worked as lead consultant for systems engineering, architecture, course development, and training. Past projects include systems engineering for the Saturn lunar landing launch vehicle, for military applications of the space shuttle, for national benefit solar energy heating, cooling, and hot water systems, plus many others. For 12 of the past 14 years, he has been training systems engineers in the craft.
He was Technical Chairman for the 1993 Third International Symposium of the National Council on Systems Engineering (INCOSE), is past Chairman of the INCOSE Principles Working Group, and was elected to the rank of "Fellow" in July, 2000.
Professor McCumber holds a BSEE from the University of Oklahoma, MSE from the University of Alabama (Huntsville) and Ph.D. from the University of Houston. He is a registered professional engineer in the states of Texas (recently inactive) and Alabama.
He lives and works from a cabin in the woods of east Tennessee.